Results 1-10 of 13 articles.
KellyBronze Details...
24/11/2011
For your award winning KellyBronze turkey for Christmas 2011 please contact:
South Powrie Farm
by Dundee
Angus
DD5 1JN
T: 01382 504 637
Harvest 2011
01/09/2011
With no turkeys to look after this year all of our efforts are on getting the harvest in. Wheat, potatoes & broccoli are all go!
KELLYBRONZE TURKEYS
14/06/2011
We want to let all of our lovely loyal customers know that we have decided, as a family, to stop rearing & producing KellyBronze turkeys. We are such a busy farming business that we simply didnít have the time needed to commit to such a super product. There is a fantastic positive side to this story however, we have great local farming friends, Tommy & Zannah Pate, who are taking over our franchise so it means all of our customers can still get their hands on an award winning KellyBronze turkey for Christmas 2011. Thankyou very much for your faithful custom over the last 5 years. The Pates will be in touch in due course.
Best wishes, The Forster Family
Sold half already...!
22/11/2010
We have to thank our faithful customers who come back year after year, and also all of the new customers who have been super organised for Christmas this year and ordered already.
Our turkeys sales are rocketing and we are hoping everyone is remembering to place their order before we sell out completely.
Order online now, just click the order button.
We are certainly beginning to get into the festive spirit and looking forward to Christmas already!
Best wishes from all at Peacehill :-)
Christmas 2010...
04/11/2010
It's the exciting time of year where Peacehill's phones, e-mails and website will be buzzing with turkey enquiries!
Our turkeys are spending most of their time outdoors, even in these colder days, they seem so hardy!
We have had a few enquiries regarding turkeys for Thanksgiving, but as we want our turkeys to live the longest life possible we don't 'prepare' any as early as November. What we have done the last couple of years is freeze a selection of our fresh turkeys and sell those at last years prices. If you would like a frozen turkey for Thanksgiving please call me on 07736 846 945.
Online ordering will open up this afternoon, Thursday 4th November. It's the easiest and quickest way to order, but make aure you recieve an e-mail conformation from us.
We will be posting out mail order forms to all of our existing customers today, unless you stated you wanted an e-mail reminder to order online.
We have 500 turkeys this year, let's hope it's a successful Christmas, looking forward to hearing from you all!
Emma & Everyone at Peacehill x
Chicks have hatched!
25/06/2010
We can't believe this time is upon us already, the chicks have been hatched and were delivered within a few hours from KellyBronze to Hayston Farm.
We have 500 chicks under 2 brooding rings, which have lovely big heat lamps to keep the chicks nice and warm. They run around on wood shavings with plenty of chick crumbs and water.
They are the most inquisitive wee things and as you can see from the photo, they come waddling over whenever anyone is near.
They will be in the brooding rings for around 5 weeks until they are big and tough enough to be let outside onto the range.
This is a very important time to make sure the chicks are well looked after and checked continually, ensuring they grow into healthy turkeys.
Jessica and Isabelle are giving us a helping hand!
Emma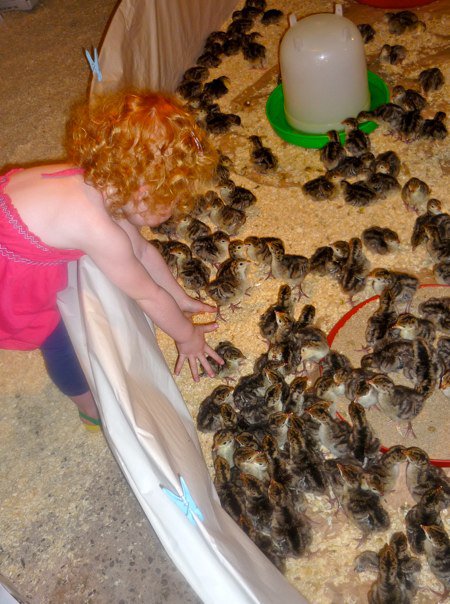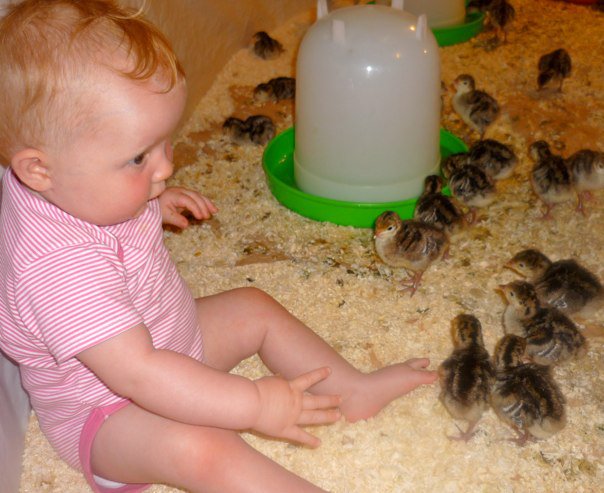 Nearly summer!
07/05/2010
We can't believe it is only 6 weeks to go until our turkey chicks are hatched. The week beginning the 21st June is the time and we're now in the process of getting everything ready for them.
We describe the first few weeks with our chicks as 'brooding' and it is a vital time for the turkeys. You need to give them the best possible start to allow them to thrive and live a happy & healthy life.
As soon as our chicks arrive we'll upload a few photos for all to see.
Until then we are very busy planting broccoli and potatoes and doing a lot of field work including spraying our wheat.
There is also a new addition to the Forster family, a brilliant black lab puppy called Ebony. She'll not get the chance to be a 'sheepdog' here at Peaceill...but maybe there is a possibility of training her to become a 'turkeydog'!
Bring on summer time!
All at Peacehill!
Facebook
30/10/2009
Come and join us on our facebook page to catch up on the latest information regarding the turkeys and their progress. We will also be letting everyone know about how the sales are doing and what the experts say about our turkeys in the lead up to christmas!
Peacehill KellyBronze® Turkeys
ORDER NOW
28/10/2009
Hi everyone,
The website is up and running so get your orders in. Prices are frozen from last year so make sure you have the award winning KellyBronze® for your christmas dinner this year. We promise you will not be disappointed.
Christmas 2009
26/10/2009
Hello all.
Sorry everything has been so quiet on the peacehill pages. We have had a busy spell on the farm and with a new addition to our family in the last 6 weeks! Isabelle Forster, a little sister for Jessica was born on the 28th August. All doing well.
On the turkey front things are running along nicely and the birds are happily pecking about the yard. We have 450 this year and look to have just as successful a year as last.
For those of you that have ordered from us before an order form will be arriving in the next few days and we also hope to have the website order form up and running this week.
Any questions feel free to email.
Oh and prices are frozen from 2008 so get your orders in quick.
Many thanks for your support again.
The peacehill team.